Latest Update:2020/12/15 13:48:27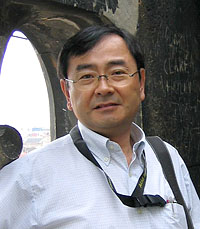 Researcher Name

NOHARA Seiichi
Div (Section) name/title

Center for Environmental Biology and Ecosystem Studies(Ecosystem Function Research Section)/-
Research Subject

Development of Watershed Environmental Impact Assessment Procedure
Degree(s)

Doctorate of Science
Professional Qualification(s)

Biology,Science,Science of Fisheries
Environmental Speciality Field

wetland ecology,limnology,plant ecology
Keyword(s)

environment impact assessment,stable isotope analysis,hydrogeomorphology,landscape ecology,biodiversity,material recycling,ecosystem function,aquatic plant,mangrove,wetland
Brief Description of Research

Dr. Nohara's expertise lies in wetland ecology, plant ecology, analysis of stable isotopes, and environmental assessment. He has visited most of the waterfronts in Japan, including Kushiro Marsh, Akai Wetland, Ozegahara Marsh, Miomote River, Lake Kasumigaura, Hinuma Bog, Banzu Natural Tidal Flat, Ise Bay, and Ishigaki Island. He has devoted his life to the study of red snow in early spring and Elodea nuttallii in summer in Oze Swamp.
 Recently, he has been working on biodiversity research. He is also working on a survey of anthropogenic influences on ecosystem functions by extracting the unit construction of salt marshes, tidelands, and marine forests in estuaries from landscape ecological and hydrogeomorphological perspectives using airplane remote sensing, and by clarifying material circulation functions, including primary production and degradation rates, and distribution and community structures for each unit. In addition, he has been assessing the impacts of human disturbance on upstream regions and determining the environmental factors, such as sediment deposition, that may have an effect on ecosystem changes.
 Based on these studies, he is working on clarifying biodiversity issues and anthropogenic influences on material cycles in salt marshes, tidelands, and marine forests in estuaries according to the stable carbon and nitrogen isotope ratios.
Membership of Academic Society

The Japanese Society of Limnology,Japan Society foe Impact Assessment,Japan Society of Photogrammetry and Remote Sensing (JSPRS),The Society for the Study of Species Biology,Japan Geoscience Union,Mangrove Society of Japan ,Ecological Society of Japan
Research Subject

Fiscal Year: 2020

25098 : Harmonization with Nature Research Program
25140 : Evaluation of Ecosystem Functions and Services and their Sustainable Use
25154 : Research for impacts on organisms and ecosystem from environmental radiation and evacuation in Fukushima

Fiscal Year: 2019

24695 : Harmonization with Nature Research Program
24720 : Evaluation of Ecosystem Functions and Services and their Sustainable Use
24735 : Research for impacts on organisms and ecosystem from environmental radiation and evacuation in Fukushima

Fiscal Year: 2018

24303 : Evaluation of ecosystem functions and services and their sustainable use
24327 : Research for Impacts on Organisms and Ecosystem from Environmental Radiation and Evacuation in Fukushima
24354 : Harmonization with Nature Research Program

Fiscal Year: 2017

23825 : Evaluation of ecosystem functions and services and their sustainable use
23845 : Harmonization with Nature Research Program
23867 : Research for Impacts on Organisms and Ecosystem from Environmental Radiation and Evacuation in Fukushima
24077 : Studies on assessment of environmental radioactivity outflux from dam and lake ecosystems

Fiscal Year: 2016

23408 : Harmonization with Nature Research Program
23413 : Evaluation of ecosystem functions and services and their sustainable use
23430 : Research for Impacts on Organisms and Ecosystem from Environmental Radiation and Evacuation in Fukushima

Fiscal Year: 2015

23010 : Assessment of functions and integrity of basin ecosystems
23012 : Development of strategic environmental assessment technologies for nature restoration
23036 : Environmental Recovery Research Program
23037 : Research for Impacts on Organisms and Ecosystem
23221 : Studies on dynamic process of radioactive cesium in Lake ecosystem of Akagi Onuma
23222 : Basic studies on dynamic process of environmental radioactivity in watershed ecosystem

Fiscal Year: 2014

22598 : Assessment of functions and integrity of basin ecosystems
22600 : Development of strategic environmental assessment technologies for nature restoration
22625 : Study on dynamics of radioactive materials in multimedia environment
22647 : Environmental Recovery Research Program
22649 : Research for Impacts on Organisms and Ecosystem
22673 : Characterization and quantification of global methane emissions by utilizing GOSAT and in-situ measurements

Fiscal Year: 2013

22182 : Assessment of functions and integrity of basin ecosystems
22184 : Development of strategic environmental assessment technologies for nature restoration
22209 : Study on dynamics of radioactive materials in multimedia environment
22217 : Characterization and quantification of global methane emissions by utilizing GOSAT and in-situ measurements
22303 : Integrated database construction and spatial analysis of mangrove forest in coastal wetland
22434 : Future prospects and dynamic analysis of radioactive cesium fall at Gunma Prefecture
22435 : Studies on assessment of ecosystem functions of wetland using environmental radio isotope
22449 : Regional environmental assessment of radioactive materials based on the multimedia modelling and strategic monitoring

Fiscal Year: 2012

21753 : Assessment of functions and integrity of basin ecosystems
21755 : Development of Strategic Environmental Assessment Technologies for Nature Restoration
21780 : Study on dynamics of radioactive materials in multimedia environment
21888 : Studies on assessment of ecosystem functions of wetland using environmental radio isotope
21889 : future prospects and dynamic analysis of radioactive cesium fall at Gunma Prefecture
21913 : Regional environmental assessment of radioactive materials based on the multimedia modelling and strategic monitoring
21959 : Integrated database construction and spatial analysis of mangrove forest in coastal wetland
21978 : Develping methods for monitoring system of transfiguration of Kushiro mire and harmonic management on wetland restration
22042 : Characterization and quantification of global methane emissions by utilizing GOSAT and in-situ measurements

Fiscal Year: 2011

21278 : Cycling of organic matter and its interactivity with microbial ecosystem in lake
21313 : Development of Strategic Environmental Assessment Technologies for Nature Restoration
21551 : Develping methods for monitoring system of transfiguration of Kushiro mire and harmonic management on wetland restration
21587 : Integrated database construction and spatial analysis of mangrove forest in coastal wetland
21647 : Study on multimedia modeling and long-term monitoring for radioactive substance

Fiscal Year: 2010

20872 : Cycling of organic matter and its interactivity with microbial ecosystem in lake
21025 : Terrestrial Monitoring
21211 : Watershed environment management based on the coexistence with nature in Ise Bay
21241 : Development of Watershed Environmental Impact Assessment Procedure
21242 : Study on the methods for the environmental impact assessment of river estury using multi-tracer technique
21243 : Develping methods for monitoring system of transfiguration of Kushiro mire and harmonic management on wetland restration

Fiscal Year: 2009

20473 : Cycling of organic matter and its interactivity with microbial ecosystem in lake
20551 : Scenario-Based Assessment of the Potential Effects of Alternative Dam Construction Schemes on Freshwater Fish Diversity in the Lower Mekong Basin
20650 : Terrestrial Monitoring
20695 : Development of Watershed Environmental Impact Assessment Procedure
20697 : Study on the methods for the environmental impact assessment of river estury using multi-tracer technique
20698 : Develping methods for monitoring system of transfiguration of Kushiro mire and harmonic management on wetland restration
20699 : Study on watershed environmental impact assessment in costal ecosystems using stable isotope
20783 : Watershed environment management based on the coexistence with nature in Ise Bay
20839 : The establishment of qualitative and quantitative flux model of thermal spring for the conservation policy of hot springs

Fiscal Year: 2008

20059 : Cycling of organic matter and its interactivity with microbial ecosystem in lake
20096 : Study on the methods for the environmental impact assessment of river estury using multi-tracer technique
20097 : Development of Watershed Environmental Impact Assessment Procedure
20098 : Study on watershed environmental impact assessment in costal ecosystems using stable isotope
20100 : Develping methods for monitoring system of transfiguration of Kushiro mire and harmonic management on wetland restration
20336 : Watershed environment management based on the coexistence with nature in Ise Bay

Fiscal Year: 2007

10380 : Biological community and material recycling monitoring of the ecotone inLake Kasumigaura
10547 : Watershed environment management based on the coexistence with nature in Ise Bay
10588 : Development of Watershed Environmental Impact Assessment Procedure
10697 : Study on watershed environmental impact assessment in costal ecosystems using stable isotope

Fiscal Year: 2006

10027 : Biological community and material recycling monitoring of the ecotone inLake Kasumigaura
10051 : Evaluation and restoration of lake environment based on linkages among the bioreactivity and chemical composition of organic matter
10077 : Pilot Project on Mekong River Ecosystem Monitoring
10080 : Studies on assessment procedure about wetland restration project using stable isotope ratio
10286 : Watershed environment management based on the coexistence with nature in Ise Bay
10321 : Development of Watershed Environmental Impact Assessment Procedure

Fiscal Year: 2005

9328 : Global Environmental Monitoring
9448 : Studies on assessment of restration technology of wetland ecosystem
9475 : Biological community and material recycling monitoring of the ecotone inLake Kasumigaura
9522 : Evaluation and restoration of lake environment based on linkages among the bioreactivity and chemical composition of organic matter
9550 : Studies on assessment procedure about wetland restration project using stable isotope ratio

Fiscal Year: 2004

9059 : Studies on the impacts of acid pollutants to the aquatic environment
9165 : Studies on assessment of restration technology of wetland ecosystem
9193 : Biological community and material recycling monitoring of the ecotone inLake Kasumigaura
9273 : Evaluation and restoration of lake environment based on linkages among the bioreactivity and chemical composition of organic matter
9301 : Studies on assessment procedure about wetland restration project using stable isotope ratio

Fiscal Year: 2003

8649 : Studies on mass balance of dissolved organic matter in lake and its functions and effects on lacustrine ecosystems and water quality
8673 : Studies on natural history of nutrient loading to forested wetland usingstable isotope approach
8789 : Studies on the impacts of acid pollutants to the aquatic environment
8900 : Studies on assessment of restration technology of wetland ecosystem
8923 : Biological community and material recycling monitoring of the ecotone inLake Kasumigaura

Fiscal Year: 2002

8306 : Global Environmental Monitoring
8321 : International collaborative research on the manegement of wetland ecosystem
8431 : Studies on mass balance of dissolved organic matter in lake and its functions and effects on lacustrine ecosystems and water quality
8455 : Studies on natural history of nutrient loading to forested wetland using stable isotope approach
8586 : Studies on the impacts of acid pollutants to the aquatic environment

Fiscal Year: 2001

8000 : Global Environmental Monitoring
8028 : International collaborative research on the manegement of wetland ecosystem
8181 : FS-3 Eutrophic acid rain and its impacts on ecosystem
8215 : Studies on mass balance of dissolved organic carbon in lake and its effects on lake ecosystems and water quality
8233 : Studies on natural history of nutrient loading to forested wetland using stable isotope approach
Research Result (Publication)

Presenter :

Matsuzaki R.,

Kawachi M.

, Nozaki H.,

Nohara S.

, Suzuki I.

Title :

, PLoS One, 15(8): (2020)

Presenter :

Kaneko K.,

Nohara S.

Title :

, Open Journal of Ecology, 4(1):1-10 (2014)

Presenter :

Fukushima M.

, Jutagate T., Grudpan C., Phomikong,

Nohara S.

Title :

, PLOS ONES, 9(8):e103722 (2014)

Presenter :

Phomikong P.,

Fukushima M.

, Sricharoendham B.,

Nohara S.

, Jutagate T.

Title :

, RIVER RESEARCH AND APPLICATIONS (2014)

Presenter :

Kameyama S.

, Shimazaki H.,

Nohara S.

, Sato T., Fujii Y., Kudo K.

Title :

, American Journal of Environmental Science, 9(3):247-258 (2013)

Presenter :

Kameyama S.

, Miyamoto C., Suda S., Asano T.,

Nohara S.

Title :

, Main streaming Mangroves (Proceedings of Regional Symposium on Mangrove Ecosystem Management in South East Asia), 182-187 (2013)

Presenter :

Kaneko K.,

Nohara S.

Title :

, Open Journal of Ecology, 3(2):205-213 (2013)

Original Paper

Impacts of anthropogenic structural changes to the Mekong River watershed on seasonal hydrologic dynamics in the watershed and floodplain

Original Paper

Nitrogen dynamics and N2O emission in restored salt marsh Lake Shinji Japan

Presenter :

Senga Y., Hirota M., Hirao M, Fujii T., Seike Y.,

Nohara S.

, Kunii H.

Title :

, Verh.Internat.Verein.Limnol., 30(6):907-910 (2009)

Presenter :

Hirota M.(*1), Senga Y.(*1), Seike Y.(*2),

Nohara S.

, Kunii H.(*2)

Title :

, Chemosphere, 68:597-603 (2007)

Spring red snow phenomenon caused by iron accumulated around algal spores in alpine mires in Japan

Presenter :

Yamamoto Y.(*1), Ohtaka A.(*2), Hayashi T.(*1), Fukuhara H.(*3),

Nohara S.

, Ochiai M.(*4)

Title :

, Verh.Internat.Verein.Limnol., 29:1947-1950 (2006)

Spring red snow phenomenon 'Akashibo' in the Ozegahara mire,Central Japan,with special reference to the distribution of invertebrates in red snow

Presenter :

Fukuhara H.(*1), Ohtaka A.(*2), Kimura N.(*1), Fukui M.(*3), Kikuchi Y.(*4),

Nohara S.

, Ochiai M.(*3), Yamamoto Y.(*5), Akashibo Res.Group

Title :

, Verh.Int.Verein.Limnol., 28:1645-1652 (2003)

The role of adventitious roots in supplying water to Ipomoea pes-caprae

Presenter :

Okui T.(*1),

Nohara S.

, Furukawa A.(*1)

Title :

, Tropics, 12(2):171-177 (2002)

Significance of dissolved organic matter in a mire pool ecosystem

Presenter :

Hanazato T.(*1), Hayashi H.(*1), Sakai S.(*1), Mori M.(*1), Kawamura K.(*1),

Nohara S.

Title :

, Verh.Internat.Limnol., 27:1649-1652 (2000)

Origin and Evolution of the Colonial Volvocales(Chlorophyceae)as inferred from Multiple,Chloroplast Gene Sequences

Presenter :

NOHARA Seiichi

Title :

, Mol.Phylogenetics & Evol., 17(2):256‐268 (2000)

Pesticide Residue Flux from Rainwater into Lake Nakanuma in the Rainy Season

Presenter :

NOHARA Seiichi

Title :

, Jpn.J.Limnol., 58(4):385‐393 (1997)

Growth characteristics of Nelumbo nucifera Gaertn. in response to water depth and flooding

Residual pesticides and their toxicity to freshwater shrimp in the littoral and pelagic zones of Lake Kasumigaura,Japan

Presenter :

NOHARA Seiichi

Title :

, Chemosphere, 33(7):1417‐1424 (1996)

Pesticide residues in water and an aquatic plant,Nelumbo nucifera,in a river mouth at Lake Kasumigaura,Japan

Presenter :

NOHARA Seiichi

Title :

, Chemosphere, 33(7):1409‐1416 (1996)

Growth of the Indian lotus (Nelumbo nucifera Gaertn) and the influence of tuber density on foliage structure and biomass

Presenter :

NOHARA Seiichi

Title :

, Jpn.J.Limnol., 57(3):235‐243 (1996)

Limnological aspect of mires:background and a case study

Presenter :

NOHARA Seiichi

Title :

, Rep.Suwa Hydrobiol., 9:47‐52 (1995)

Seasonal changes of groundwater chemistry in Miyatoko mire

Presenter :

NOHARA Seiichi

Title :

, Wetland Manage. (Thomas Telford), 260‐269 (1994)

Chironomid fauna in the emergent plant zone of Lake Kasumigaura,Japan

Distribution and population dynamics of Chironomidae (Diptera) in Lake Yunoko, Japan

Zonal distribution of aquatic macrophytes in the littoral zone of Edosaki-iri Bay in Lake Kasumigaura, Japan

Presenter :

NOHARA Seiichi

Title :

, Jpn.J.Limnol., 54(2):125‐130 (1993)

Runoff properties and change in concentrations of agricultural pesticides in a river system during a rice cultivation period

Presenter :

NOHARA Seiichi

, ,

Title :

, Chemosphere, 27(4):677‐691 (1993)

Annual changes of stands of Trapa natans L.in Takahamairi Bay of Lake Kasumigaura, Japan

Seasonal succession and vertical distribution of zooplankton in Lake Ozenuma

Population dynamics and diel changes in vertical distribution of the Cladoceran Holopedium gibberum and Bosmina longirostris in Lake Ozenuma

A study on annual changes in surface cover of floating-leaved plants in a lake using aerial photography

Effects of pesticide contamination from rice fields on stream benthic arthropods

Presenter :

NOHARA Seiichi

,

Title :

, Jpn.J.Limnol., 52(2):95‐103 (1991)

Effects of water level fluctuation on the growth of Nelumbo nucifera Gaertn, in Lake Kasumigaura, Japan

Net primary production of Nymphoides peltata (Gmel.) O.kuntze growing on sandy sediment at Edosaki-iri Bay in Lake Kasumigaura,Japan

Growth and life span of the leaves of Nelumbo nucifera Gaertn. in Lake Kasumigaura,Japan

Annual and seasonal variations in biomass of a floating-leaved plant, Trapa natans L.,in Takahamairi Bay of Lake Kasumigaura,Japan

Presenter :

NOHARA Seiichi

Title :

, Jpn.J.Limnol., 48 Spec. Issue:S39‐S44 (1987)

Presenter :

Matsuzaki R.,

Kawachi M.

, Nozaki H.,

Nohara S.

, Suzuki I.

Title :

, PLoS One, 15(8): (2020)

Presenter :

Kaneko K.,

Nohara S.

Title :

, Open Journal of Ecology, 4(1):1-10 (2014)

Presenter :

Fukushima M.

, Jutagate T., Grudpan C., Phomikong,

Nohara S.

Title :

, PLOS ONES, 9(8):e103722 (2014)

Presenter :

Phomikong P.,

Fukushima M.

, Sricharoendham B.,

Nohara S.

, Jutagate T.

Title :

, RIVER RESEARCH AND APPLICATIONS (2014)

Presenter :

Kameyama S.

, Shimazaki H.,

Nohara S.

, Sato T., Fujii Y., Kudo K.

Title :

, American Journal of Environmental Science, 9(3):247-258 (2013)

Presenter :

Kameyama S.

, Miyamoto C., Suda S., Asano T.,

Nohara S.

Title :

, Main streaming Mangroves (Proceedings of Regional Symposium on Mangrove Ecosystem Management in South East Asia), 182-187 (2013)

Presenter :

Kaneko K.,

Nohara S.

Title :

, Open Journal of Ecology, 3(2):205-213 (2013)

Impacts of anthropogenic structural changes to the Mekong River watershed on seasonal hydrologic dynamics in the watershed and floodplain

Nitrogen dynamics and N2O emission in restored salt marsh Lake Shinji Japan

Presenter :

Senga Y., Hirota M., Hirao M, Fujii T., Seike Y.,

Nohara S.

, Kunii H.

Title :

, Verh.Internat.Verein.Limnol., 30(6):907-910 (2009)
Research Result (Presentation)

all
Research Presentation
Research Lecture

Presenter :

Kameyama S.

, Kawagushi Y. , Inoue M., Miyake Y.,

Nohara S.

Name of Society :

平成29年度瀬戸内海研究フォーラム in 京都 (2017)

Name of Proceedings :

Abstracts, 47

Presenter :

Kameyama S.

, Kawaguchi Y., Inoue M., Miyake Y.,

Kondo N.

,

Nohara S.

Name of Society :

The 8th, World Recreational Fishing Conference 2017 (2017)

Name of Proceedings :

Abstracts, 2017(Session 7_I12):P.11

Presenter :

Kameyama S.

, Kawaguchi Y., Inoue M., Miyake Y.,

Nohara S.

Name of Society :

The 64th Annual Meeting of the Ecological Society of Japan (2017)

Name of Proceedings :

Abstracts, 64:L02-03

Presenter :

Kameyama S.

, Kawaguchi Y. , Inoue M., Miyake Y.,

Nohara S.

Name of Society :

International Conference 2016, Towards the Best Practice of River Restoration and Maintenance (2016)

Name of Proceedings :

Abstracts, 33

Research Presentation

Radioactivity accumulation studies on difference in estuary forms using UAV(Unmanned Aerial Vehicle)after the accident of the Fukushima Daiichi Nuclear Power Station

Presenter :

Nohara S.

, Kaneko K., Kodama N., Ishihara N.

Name of Society :

The 10th INTECOL International Wetlands Conference (2016)

Name of Proceedings :

Abstracts, 14

Research Lecture

The Evaluation of Mangrove Restoration Project in Vietnam (From Shrimp Pond to Mangrove Wetland)

Presenter :

Kameyama S.

, Miyamoto C., Suda S., Asano T.,

Nohara S.

Name of Society :

International workshop --Appropriate Technology Solutions for Water, Energy and Land Management in the Mekong Delta-- (2016)

Name of Proceedings :

International Workshop Appropriate Technology Solutions for Water, Energy and Land Management in the Mekong Delta, 2006:1-11

Presenter :

Kameyama S.

, Miyamoto C., Suda S., Asano S.,

Nohara S.

Name of Society :

The 63rd Annual Meeting of Ecological Society of Japan (2016)

Name of Proceedings :

ESJ63 Abstract P2-345

Presenter :

Kameyama S.

,

Yamagata Y.

,

Nohara S.

, Sato M., Terui S.

Name of Society :

International Conference on River and Stream Restration(REFORM)2015 (2015)

Name of Proceedings :

Novel Approaches to Assess and Rehabilitate Modified Rivers, 100

Presenter :

Kameyama S.

,

Yamagata Y.

,

Nohara S.

, Sato M., Terui S.

Name of Society :

The 62nd Ecological Society of Japan Annual Meeting (2015)

Name of Proceedings :

Abstracts

Research Presentation

Sedimentation Processes of Phosphorus in the Catena in Dam Reservoirs in the Mekong River Basin

Presenter :

Murata T.

,

Hiroki M.

,

Tomioka N.

,

Nohara S.

,

Yoshida K.

,

Fukushima M.

,

Imai A.

, Jutagate T., Srean P., Praxaysombath B.

Name of Society :

20th World Congress of Soil Science (2014)

Name of Proceedings :

Proceedings of 20th World Congress of Soil Science, (P1-111)

Presenter :

Kameyama S.

, Miyamoto C., Suda S., Asano T.,

Nohara S.

Name of Society :

61th Annual Meeting of Ecological Society of Japan (2014)

Name of Proceedings :

Abstracts

Presenter :

Kameyama S.

, Miyamato C., Suda S., Asano T.,

Nohara S.

Name of Society :

The International Conference on Mangroves of Asia-Pacific Countries in View of Climate Change 2014 (2014)

Name of Proceedings :

Abstracts for The International Conference on Mangroves of Asia-Pacific Countries in View of Climate Change 2014, 32

Presenter :

Kameyama S.

,

Yamagata Y.

,

Nohara S.

, Sato M.

Name of Society :

3rd Biennial Symposium of the International Society for River Science (2013)

Name of Proceedings :

Abstract Book, 63

Presenter :

Kameyama S.

, Miyamoto C., Suda S., Asano T.,

Nohara S.

Name of Society :

6th Annual International Conference on Agriculture (2013)

Name of Proceedings :

Agriculture Abstracts 6th Annual International Conference Agriculture, 41-42

Presenter :

Kameyama S.

, Miyamoto C., Suda S., Asano T.,

Nohara S.

Name of Society :

Regional Symposium on Mangrove Ecosystem Management in Southeast Asia (2013)

Name of Proceedings :

Program Book (Regional Symposium on Mangrove Ecosystem Management in Southeast Asia), B3.10

Presenter :

Kameyama S.

, Miyamoto C., Suda S., Asano T.,

Nohara S.

Name of Society :

The 33rd Asian Conference On Remote Sensing (2012)

Name of Proceedings :

Abstracts CD, PS1-62

Presenter :

Kameyama S.

,

Nohara S.

, Sato T., Fujii Y.

Name of Society :

2nd Biennial Symposium of the International Society for River Science 2011 (2011)

Name of Proceedings :

Abstracts for 2nd Biennial Symposium of the International Society for River Science 2011, 142

Research Presentation

The impact of watershed development on seasonal looding and Fish Habitat Monitoring in the Main Stream of the Mekong River

Presenter :

Kameyama S.

,

Nohara S.

, H.Shimazaki, T.Sato, Y.Fujii

Name of Society :

Workshop Sustainable Manage.Mekong River (2011)

Name of Proceedings :

Proceedings , 15

Research Lecture

Fish migration in the Mekong River - a case study of Siamese mud carp using otolith microchemistry

Presenter :

Fukushima M.

, Jutagate T., Grudpan C., Phomikong P.,

Nohara S.

Name of Society :

Workshop Sustainable Manage.Mekong River (2011)

Name of Proceedings :

Abstracts, 8

Presenter :

Kameyama S.

,

Nohara S.

, Sato T., Fujii Y.

Name of Society :

2010 Meet.Am. (2010)

Name of Proceedings :

Abstracts, 67

Presenter :

Kameyama S.

,

Nohara S.

, SatoT., Fujii Y.

Name of Society :

9th Int.Cong.Biol.Fish (2010)

Name of Proceedings :

Abstracts, 125-126

Presenter :

Kameyama S.

, Shimazaki H.,

Nohara S.

, Sato T., Fujii Y.

Name of Society :

1st Int.Conf.Environ.Pollut.,Restoration,Manage. (2010)

Name of Proceedings :

Program, 16

Research Lecture

River restration in Kushiro river and Mekong river -Can we be "Back to the future?"

Research Presentation

A key to a highly productive mangrove ecosystem; Characteristics of water quality and bacterial functions in Can Gio mangrove forest, Vietnam

Research Presentation

Characteristics of water quality variation in Mekong River and the tributary rivers in Northern Thailand

Research Presentation

Vertical profiles of DIN, DOC, microbial activities in the peat soil in Kushiro Mire, Northeastern Japan

Research Presentation

Radial oxygen loss from the roots of three mangrove plants, Avicennia marina, Rhizophora stylosa and Bruguiera gymnorhiza

Presenter :

Kameyama S.

, Shimazaki H.,

Nohara S.

, Sato T., Kudo K.

Name of Society :

AGU Fall Meeting 2008 (2008)

Name of Proceedings :

Abstracts, H11H-0866

Presenter :

Kameyama S.

, Kawaguchi Y., Inoue M., Miyake Y.,

Kondo N.

,

Nohara S.

Name of Society :

The 8th, World Recreational Fishing Conference 2017 (2017)

Name of Proceedings :

Abstracts, 2017(Session 7_I12):P.11

Presenter :

Kameyama S.

, Kawaguchi Y., Inoue M., Miyake Y.,

Nohara S.

Name of Society :

The 64th Annual Meeting of the Ecological Society of Japan (2017)

Name of Proceedings :

Abstracts, 64:L02-03

Presenter :

Kameyama S.

,

Yamagata Y.

,

Nohara S.

, Sato M., Terui S.

Name of Society :

The 62nd Ecological Society of Japan Annual Meeting (2015)

Name of Proceedings :

Abstracts

Presenter :

Kameyama S.

, Miyamoto C., Suda S., Asano T.,

Nohara S.

Name of Society :

61th Annual Meeting of Ecological Society of Japan (2014)

Name of Proceedings :

Abstracts

Presenter :

Kameyama S.

,

Yamagata Y.

,

Nohara S.

, Sato M.

Name of Society :

3rd Biennial Symposium of the International Society for River Science (2013)

Name of Proceedings :

Abstract Book, 63

Presenter :

Kameyama S.

, Miyamoto C., Suda S., Asano T.,

Nohara S.

Name of Society :

6th Annual International Conference on Agriculture (2013)

Name of Proceedings :

Agriculture Abstracts 6th Annual International Conference Agriculture, 41-42

Presenter :

Kameyama S.

, Miyamoto C., Suda S., Asano T.,

Nohara S.

Name of Society :

Regional Symposium on Mangrove Ecosystem Management in Southeast Asia (2013)

Name of Proceedings :

Program Book (Regional Symposium on Mangrove Ecosystem Management in Southeast Asia), B3.10

Presenter :

Kameyama S.

, Shimazaki H.,

Nohara S.

, Sato T., Fujii Y.

Name of Society :

1st Int.Conf.Environ.Pollut.,Restoration,Manage. (2010)

Name of Proceedings :

Program, 16

A key to a highly productive mangrove ecosystem; Characteristics of water quality and bacterial functions in Can Gio mangrove forest, Vietnam

Presenter :

Kameyama S.

, Kawagushi Y. , Inoue M., Miyake Y.,

Nohara S.

Name of Society :

平成29年度瀬戸内海研究フォーラム in 京都 (2017)

Name of Proceedings :

Abstracts, 47

Presenter :

Kameyama S.

, Kawaguchi Y. , Inoue M., Miyake Y.,

Nohara S.

Name of Society :

International Conference 2016, Towards the Best Practice of River Restoration and Maintenance (2016)

Name of Proceedings :

Abstracts, 33

Radioactivity accumulation studies on difference in estuary forms using UAV(Unmanned Aerial Vehicle)after the accident of the Fukushima Daiichi Nuclear Power Station

Presenter :

Nohara S.

, Kaneko K., Kodama N., Ishihara N.

Name of Society :

The 10th INTECOL International Wetlands Conference (2016)

Name of Proceedings :

Abstracts, 14

Presenter :

Kameyama S.

, Miyamoto C., Suda S., Asano S.,

Nohara S.

Name of Society :

The 63rd Annual Meeting of Ecological Society of Japan (2016)

Name of Proceedings :

ESJ63 Abstract P2-345

Presenter :

Kameyama S.

,

Yamagata Y.

,

Nohara S.

, Sato M., Terui S.

Name of Society :

International Conference on River and Stream Restration(REFORM)2015 (2015)

Name of Proceedings :

Novel Approaches to Assess and Rehabilitate Modified Rivers, 100

Sedimentation Processes of Phosphorus in the Catena in Dam Reservoirs in the Mekong River Basin

Presenter :

Murata T.

,

Hiroki M.

,

Tomioka N.

,

Nohara S.

,

Yoshida K.

,

Fukushima M.

,

Imai A.

, Jutagate T., Srean P., Praxaysombath B.

Name of Society :

20th World Congress of Soil Science (2014)

Name of Proceedings :

Proceedings of 20th World Congress of Soil Science, (P1-111)

Presenter :

Kameyama S.

, Miyamoto C., Suda S., Asano T.,

Nohara S.

Name of Society :

The 33rd Asian Conference On Remote Sensing (2012)

Name of Proceedings :

Abstracts CD, PS1-62

Presenter :

Kameyama S.

,

Nohara S.

, Sato T., Fujii Y.

Name of Society :

2nd Biennial Symposium of the International Society for River Science 2011 (2011)

Name of Proceedings :

Abstracts for 2nd Biennial Symposium of the International Society for River Science 2011, 142

The impact of watershed development on seasonal looding and Fish Habitat Monitoring in the Main Stream of the Mekong River

Presenter :

Kameyama S.

,

Nohara S.

, H.Shimazaki, T.Sato, Y.Fujii

Name of Society :

Workshop Sustainable Manage.Mekong River (2011)

Name of Proceedings :

Proceedings , 15

Presenter :

Kameyama S.

,

Nohara S.

, Sato T., Fujii Y.

Name of Society :

2010 Meet.Am. (2010)

Name of Proceedings :

Abstracts, 67

Presenter :

Kameyama S.

,

Nohara S.

, SatoT., Fujii Y.

Name of Society :

9th Int.Cong.Biol.Fish (2010)

Name of Proceedings :

Abstracts, 125-126

Characteristics of water quality variation in Mekong River and the tributary rivers in Northern Thailand

Presenter :

Kameyama S.

, Shimazaki H.,

Nohara S.

, Sato T., Kudo K.

Name of Society :

AGU Fall Meeting 2008 (2008)

Name of Proceedings :

Abstracts, H11H-0866