Latest Update:2021/12/14 14:28:39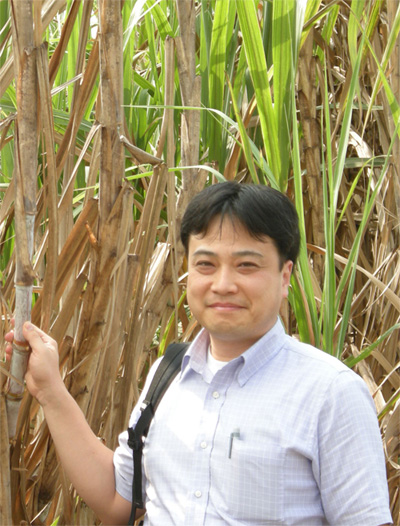 Researcher Name

SYUTSUBO Kazuaki
Div (Section) name/title

Regional Environment Conservation Division/Deputy Director
Research Subject

Development of organic wastewater treatment technology for energy conservation
Degree(s)

Dr. Eng. (Energy & Environmental Engineering)
Professional Qualification(s)

Engineering,Civil Engineering,Biology
Environmental Speciality Field

water environment,environmental technology,technology evaluation
Keyword(s)

biological wastewater treatment,methane fermentation,population dynamics analysis of bacteria,process development of wastewater treatment,domestic wastewater treatment
Brief Description of Research

Development of the appropriate methane fermentation technology for low strength wastewater treatment at low temperature:
Most organic wastewaters are discharged with low organic concentration (less than 1 g COD/L) at ambient temperature (10-25°C). Usually, these low strength wastewater were treated by an aerobic biological process (such as activated sludge process) in the factory or in the sewage treatment plant. However, it requires much amount of energy for aeration and for treatment of excess sludge.
On the other hand, the methane fermentation technology (treatment at 35°C or 55°C) that enable to collection of energy (methane) was used to the treatment of an organic refuse, such as garbage and a high organic strength of industrial wastewater. However, it was difficult to apply the methane fermentation technology to the low strength wastewater at low temperature because of inactivation of methanogenic bacteria.
We have conducted development of wastewater treatment technology using anaerobic biofilm (granular sludge), and collected the basic knowledge on microbial characteristic of granular sludge. As a result, high rate (1-4 hrs) treatment of low strength wastewater (CODcr 0.3-1.0 g/L) at ambient temperature (15-20°C) condition was achieved by development of anaerobic granular sludge bed reactor with intermittent effluent recirculation. Currently, semi pilot-scale experiment using real wastewater from food processing factory is conducted to verify the process reliability.
Moreover, development of SMFC (Sediment Microbial Fuel Cell) technology as a novel remediation technology of sediment is conducted.

Development of co-benefits treatment system of wastewater derived from crop resource:
Recently, production of bioethanol (biofuel) from agricultural crop (molasses, cassava etc.) tended to increase. For instance, during the production of bioethanol from molasses, much amount (10 times volume of ethanol) of high strength wastewater was produced. These kinds of wastewaters were placed in anaerobic pond (stabilization pond), it caused of emission of GHG (methane).
The wastewater treatment technology that suits the economical situation in this region is developed with the current situation survey of such wastewater treatment.

Development of appropriate sewage treatment technology:
Providing appropriate wastewater treatment is a challenge especially in developing countries because there have faced limitation of budgets, luck of technical skills, less available land area especially for metropolitan area, and so on. Conventional high-efficient aerobic treatment based on activated sludge imposes financial constraints on increasing the sewage treatment coverage, particularly in the low-income countries. To promote the progress of sewage treatment plant (STP) construction, appropriate treatment system need to be selected. In this study, novel trickling filter system was applied to direct treatment of domestic sewage in Bangkok to evaluate process performance by cooperation with Bangkok Metropolitan Administration and King Mongkut's University of Technology Thonburi.
Career

1997-1998 Research associate, Nagaoka University of Technology
1998-2002 Chief, Microbiology Lab., Ebara Research Co., Ltd.
1998-2000 Group Leader, Marine Biotechnology Institute Co., Ltd. (temporary transfered)
1999 Guest Researcher, Max-Plank Institute for Marine Microbiology
2003- Senior Researcher, National Institute for Environmental Studies
2013- Guest Professor, Nagaoka University of Technology
2016- Central Environment Council expert committee
2017- Deputy Director, Regional Environment Conservation Division
2021- Professor, Graduated school of the University of Tokyo
Membership of Academic Society

Japan Society on Water Environment (JSWE),Japan Society of Civil Engineers (JSCE),International Water Association
Research Subject

Fiscal Year: 2021

25523 : Proposal and evaluation of environmentally efficient technologies and systems in collaboration with local communities
25525 : Co-designing solution and its implementation to develop sustainable regional society
25541 : Regional Environment Conservation Division
25618 : Improvement of water purification process and risk reduction in urban areas of Southeast Asia through development of an appropriate nitrogen removal technology
25619 : Green treatment of electronic industrial wastewater containing toxic chemicals by advanced utilization of anaerobic bacterial consortium
25621 : Evaluation of the fate of pathogenic bacteria with a view to reducing hygiene risk and development and implementation of appropriate wastewater treatment technology
25713 : Regional Environment Conservation Domain: Foresight and Advanced Basic Research

Fiscal Year: 2020

25099 : Research Program on Health and Environmental Safety
25127 : Center for Climate Change Adaptation (CCCA)
25147 : Project to Develop Water Quality Improvement and Assessment Methods for Aquatic Environment Conservation
25148 : Research Project on the Scientific and Social Framework of Risk Assessment and Management
25163 : Green treatment of electronic industrial wastewater containing toxic chemicals by advanced utilization of anaerobic bacterial consortium
25191 : Evaluation of the suppression mechanism of phosphorus release from eutrophic soil by sediment microbial fuel cells by a multilateral analysis approach
25240 : Improvement of water purification process and risk reduction in urban areas of Southeast Asia through development of an appropriate nitrogen removal technology
25327 : Studies on Advancing the Methods for Climate Change Impacts Assessment
25446 : Policy dialogue and network building of multi-stakeholders on integrated decentralized domestic wastewater management in ASEAN countries

Fiscal Year: 2019

24694 : Sustainable Material Cycles Research Program
24696 : Research Program on Health and Environmental Safety
24727 : Project to Develop Water Quality Improvement and Assessment Methods for Aquatic Environment Conservation
24728 : Research Project on the Scientific and Social Framework of Risk Assessment and Management
24757 : Center for Climate Change Adaptation (CCCA)
24831 : Policy dialogue and network building of multi-stakeholders on integrated decentralized domestic wastewater management in ASEAN countries
24882 : Evaluation of the suppression mechanism of phosphorus release from eutrophic soil by sediment microbial fuel cells by a multilateral analysis approach
24910 : Development of a highly-efficient wastewater treatment reactor using produced biogas
24975 : Studies on Advancing the Methods for Climate Change Impacts Assessment

Fiscal Year: 2018

24297 : Advancement of sustainable and integrated waste management system in Asia
24310 : Project to develop water quality improvement and assessment methods for aquatic environment conservation
24311 : Research project on the scientific and social framework of risk assessment and management
24340 : Climate Change Strategy Collaboration Office
24353 : Sustainable Material Cycles Research Program
24355 : Research program on health and environmental safety
24395 : Development of a highly-efficient wastewater treatment reactor using produced biogas
24586 : Integrated Approach for Dissemination of Decentralized Domestic Wastewater Treatment System in Southeast Asia

Fiscal Year: 2017

23817 : Research project on the scientific and social framework of risk assessment and management
23818 : Project to develop water quality improvement and assessment methods for aquatic environment conservation
23831 : Advancement of sustainable and integrated waste management system in Asia
23844 : Sustainable Material Cycles Research Program
23847 : Research program on health and environmental safety
23861 : Climate Change Strategy Collaboration Office
23996 : Integrated Approach for Dissemination of Decentralized Domestic Wastewater Treatment System in Southeast Asia
24217 : Development of a highly-efficient wastewater treatment reactor using produced biogas

Fiscal Year: 2016

23414 : Research program on health and environmental safety
23421 : Project to develop water quality improvement and assessment methods for aquatic environment conservation
23422 : Research project on the scientific and social framework of risk assessment and management
23585 : Integrated Approach for Dissemination of Decentralized Domestic Wastewater Treatment System in Southeast Asia
23595 : Comparative study on development and evaluation of amendment technologies for sediment in coastal sea

Fiscal Year: 2015

23014 : Evaluation system of environmental technologies and policies and its societal implementation process
23112 : Evaluations of degradation mechanism and green house gas emission of the rubber wastewater
23113 : Study on practical deployment of an appropriate wastewater treatment system
23220 : Comparative study on development and evaluation of amendment technologies for sediment in coastal sea
23335 : Analysis of sediment remediation mechanism by microbial fuel cell in lacustrine environment

Fiscal Year: 2014

22602 : Evaluation system of environmental technologies and policies and its societal implementation process
22702 : Comparative study on development and evaluation of amendment technologies for sediment in coastal sea
22788 : Evaluations of degradation mechanism and green house gas emission of the rubber wastewater
22790 : Study on practical deployment of an appropriate wastewater treatment system

Fiscal Year: 2013

22186 : Evaluation system of environmental technologies and policies and its societal implementation process
22330 : Evaluations of degradation mechanism and green house gas emission of the rubber wastewater
22331 : Development of the energy efficient wastewater treatment technology by a stack type microbial fuel cells
22397 : Planning and evaluation system for resource circulation in Asia cities based on the Japanese environmental technologies and policies
22504 : Evaluation of microfauna community in trickling filter for sewage treatment using carbon and nitrogen stable isotope ratios
22545 : Study on practical deployment of an appropriate wastewater treatment system

Fiscal Year: 2012

21757 : Evaluation system of environmental technologies and policies and its societal implementation process
21940 : Evaluations of degradation mechanism and green house gas emission of the rubber wastewater
21941 : Development of the energy efficient wastewater treatment technology by a stack type microbial fuel cells
21956 : Planning and evaluation system for resource circulation in Asia cities based on the Japanese environmental technologies and policies
22035 : Evaluation of sewage treatment and sludge reduction mechanism in a trickling filter process by microbial community and stable isotope ratios analysis
22121 : Research on the practical application of methane fermentation wastewater treatment technology

Fiscal Year: 2011

21315 : Evaluation system of environmental technologies and policies and its societal implementation process
21456 : Development of co-benefits treatment system of liquid-waste derived from crop resource
21554 : Evaluations of degradation mechanism and green house gas emission of the rubber wastewater
21558 : Optimization of industrial wastewater treatment technology
21575 : Planning and evaluation system for resource circulation in Asia cities based on the Japanese environmental technologies and policies
21712 : Development of the systems for evaluating regional water and material cycles in East Asia

Fiscal Year: 2010

20962 : Development of co-benefits treatment system of liquid-waste derived from crop resource
20964 : Innovation of High Rate Methane Fermentation Process of Palm Oil Mill Effluent (POME) for Clean Development Mechanism Application [Studies on community analysis and control technology of microbial consortia for stabilization and efficiency-improvement in the treatment process]
21033 : The basic research on microbial community structure and evaluation of activity in water soil environment
21163 : Development of the systems for evaluating regional water and material cycles in East Asia
21256 : Optimization of industrial wastewater treatment technology

Fiscal Year: 2009

20434 : Innovation of High Rate Methane Fermentation Process of Palm Oil Mill Effluent (POME) for Clean Development Mechanism Application [Studies on community analysis and control technology of microbial consortia for stabilization and efficiency-improvement in the treatment process]
20435 : The basic research on microbial community structure and evaluation of activity in water soil environment
20453 : Research on application of methane fermentation technology to low strength sugar refinery wastewater
20456 : Development of co-benefits treatment system of liquid-waste derived from crop resource
20599 : Development of the systems for evaluating regional water and material cycles in East Asia

Fiscal Year: 2008

20170 : Development of wastewater treatment technology by using anaerobic biofilm
20171 : Evaluation of biodegradation-characteristic of organic compounds in anaerobic treatment of wastewater at ambient temperature
20178 : Development of wastewater treatment system that enables recycling of carbon-energy
20206 : The basic research on microbial community structure and evaluation of activity in water soil environment
20231 : Development of the systems for evaluating regional water and material cycles in East Asia
20371 : Innovation of High Rate Methane Fermentation Process of Palm Oil Mill Effluent (POME) for Clean Development Mechanism Application [Studies on community analysis and control technology of microbial consortia for stabilization and efficiency-improvement in the treatment process]

Fiscal Year: 2007

10473 : The basic research on microbial community structure and evaluation of activity in water soil environment
10523 : Development of wastewater treatment system that enables recycling of carbon-energy
10566 : Development of wastewater treatment technology by using anaerobic biofilm
10567 : Evaluation of biodegradation-characteristic of organic compounds in anaerobic treatment of wastewater at ambient temperature
10587 : Development of the systems for evaluating regional water and material cycles in East Asia

Fiscal Year: 2006

10218 : The basic research on microbial community structure and evaluation of activity in water soil environment
10262 : Development of wastewater treatment system that enables recycling of carbon-energy
10299 : Development of wastewater treatment technology by using anaerobic biofilm
10300 : Evaluation of biodegradation-characteristic of organic compounds in anaerobic treatment of wastewater at ambient temperature

Fiscal Year: 2005

9467 : Development of wastewater treatment technology by using anaerobic biofilm
9493 : The basic research on microbial community structure and evaluation of activity in water soil environment
9605 : The leading investigation which relates to development of aquatic resources circulation technology of the next generation which activated sulfate-reducing cycle function by microorganism (The investigation of methane fermentation technology for the treatment of low strength wastewater)

Fiscal Year: 2004

9185 : Development of wastewater treatment technology by using anaerobic biofilm
9244 : The basic research on microbial community structure and evaluation of activity in water soil environment
9293 : Development of energy generation technology from low strength wastewater

Fiscal Year: 2003

8915 : Development of wastewater treatment technology by using anaerobic biofilm
Research Result (Publication)

all
Original Paper
Other Publications
Research Result (Presentation)

all
Research Presentation
Research Lecture